Save up to 30% in Mexico with GotRentalcars.com!
Welcome to Mexico!
From forests and deserts, fireworks and All Souls' Day, vibrant cities and pueblos, Mexico evokes numerouscontrasted pictures.
The capital, Mexico City, is already a world in itself and the rest of the country shines with its diversity :
Mayan and Aztec archeological sites
Colonial cities
Forests and canyons, Desert
White sand beaches and crystal sea
making this country an imperceptible and charming riddle.
Pre-Colombian vestiges, colonial testimonies and indelible tracks of the Revolution: Mexico reveals to the visitor the episodes of its tempestuous past. However, the country of the former Mayas and Aztecs will not only seduce lovers of art, disappeared cities and Spanish architecture. As a link between both Americas, it is also a ground of dry deserts, volcanoes covered with snow, forests and numerous elegant sea resorts. Many are the ones who, every year, are drawn by its diversity.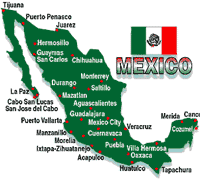 The perfect recipe to enjoy your trip and take delight in all of the facets of this country is to rent a car with GotRentaclCars.com.
With an answer to every need we have the right carat the best price waiting for you with one of our premium partners.