Save up to 30% in Portugal with GotRentalcars.com!
Portugal! Let yourself be seduced by the history, flavor and atmosphere of Europe's most westerncountry.
Celts, Romans, Visigoths, Moors have marked this beautiful country with their imprint.
Outside the captivating cities, the natural beauty of this country comes in numerous forms:
Medieval castles
Golden Beaches
Idyllic scenery
Delicious food
Cobblestone villages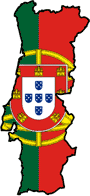 Driving one of the thousands of rental cars that gotrentalcars.com can provide you from its premium partners is the best way to delight your journey.
Start your trip with Porto, which is considered one of the most beautiful cities of Europe. Continue your journey to discover Lisbon, the country's second city and a UNESCO World Heritage Site.

Then drive to Sintra, a small city between a dream and reality.With its uncountable marvelous palaces and ruins of Moorish's castles hangingover a sleepy village, Sintra is really like a page taken from a fairy tale. Finally enjoy the Algarve coast and its stunning and romantic beaches…