Save up to 30% in Spain with GotRentalcars.com!
Viva España! (Long live Spain)
Spain possesses unsuspected faces. Let's discover them with GorRentalCars.com by taking the benefit of our unbeatable offers, our exceptional choices of car rental everywhere in the country.
Spain is a mosaic of quite fascinating regions:
The wildly beautiful cliffs of the Basque country, one of Europe's most spectacular drives.
Andalusia and its Arabic heritage
The dynamic Catalonia
The luxuriant Galicia or the peaks of the Pyrenees
Spain deserves certainly more than one journey.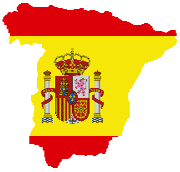 Imagine driving a convertible in Barcelona, dazzled by the absolutely unique architecture of the Sagrada Familia Basilica, a modernist masterpiece (always unfinished) of the Catalan Antoni Gaudí or visiting The Picasso museum and the Joan Míro foundation among the major museums of the city and finally having a walk on the Bacelona's most famous street: La Rambla.
From the Bustling Puerta del Sol to the magnificent Plaza Major, driving a compact car or a beautiful sedan, immerse yourself in the local culture and delight your taste buds by enjoying some wonderful Tapas at the Plaza Santa Ana.
In the flamboyant Sevilla you will move to the beat of the Flamenco, explore monuments of the Moorish civilization in Granada and you will rest while savoring the sun of the Costa del Sol or Costa Brava.
GotRentalcars.com has the perfect recipe to provide you the best car, at the best price for your journey… Olé!